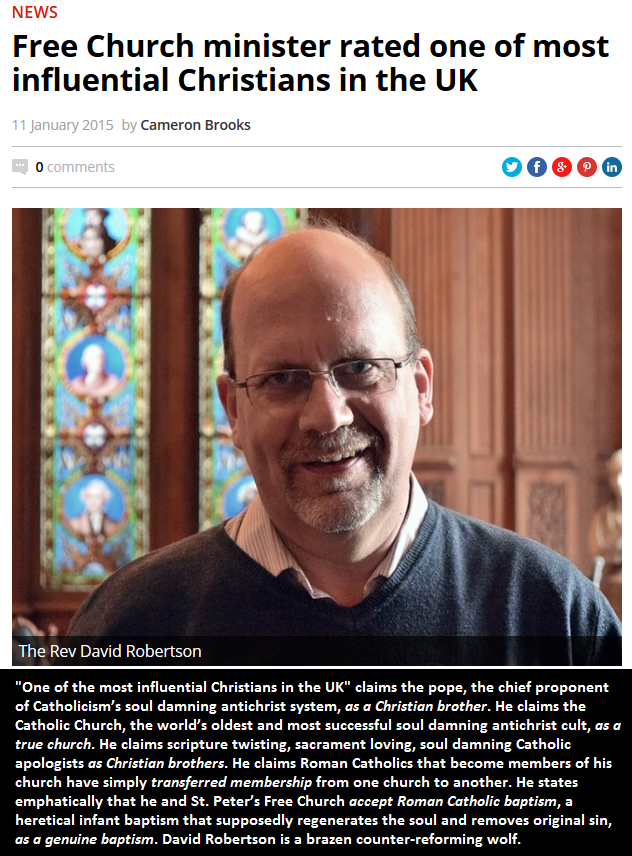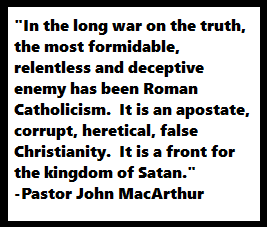 A call to swift and thorough Reformation action in defense of Christ's Church and His Gospel: If you love Christ, His Church, His Gospel, and 1.2 billion Catholic souls, please contact Christian Focus Publications and call them to bring an end to the counter-reformation that they are facilitating and profiting from. To continue sell David Robertson's book, Magnificent Obsession, (or any of his books) is to knowingly further Robertson's counter-reformation. After several gracious warnings, in writing and face to face, Christian Focus Publications continues to sell and profit from Robertson's antichrist promoting book.
When I found out Magnificent Obsession was to be given to 3,500 men at the Shepherds' Conference I went directly to Donnie Morrison (Sales and Marketing Manager for Christian Focus Publications). Donnie Morrison and I stood in the conference book tent, in the middle of the Christian Focus book sale's tables, and watched the full six minute video below in which Robertson clearly proclaims his apostasy. I further explained to him that the book they placed in the Shepherds' Conference book box was an unapologetic apologetic for the antichrist pope of Rome. Mr. Morrison seemed to be sincerely concerned. He assured me he would talk to his boss. The book wasn't removed from the boxes at the Shepherds' Conference. The book is still for sale right now on the Christian Focus website.
A little over a month later, on the morning of April 13th, Christian Focus put out a tweet with David Robertson's antichrist promoting book featured front and center on their table at Together for the Gospel (T4G 2016). They are boasting their profit from and promotion of popish apostasy. A formerly trustworthy publisher has gone astray from the Gospel, and they are willfully leading other men and ministries astray with each David Robertson book they sell . . . or place in 3,500 Shepherds Conference complimentary book boxes to go home with 3,500 men to their churches and families with an implied Shepherds' Conference endorsement. Here's the tweet and the picture at was attached: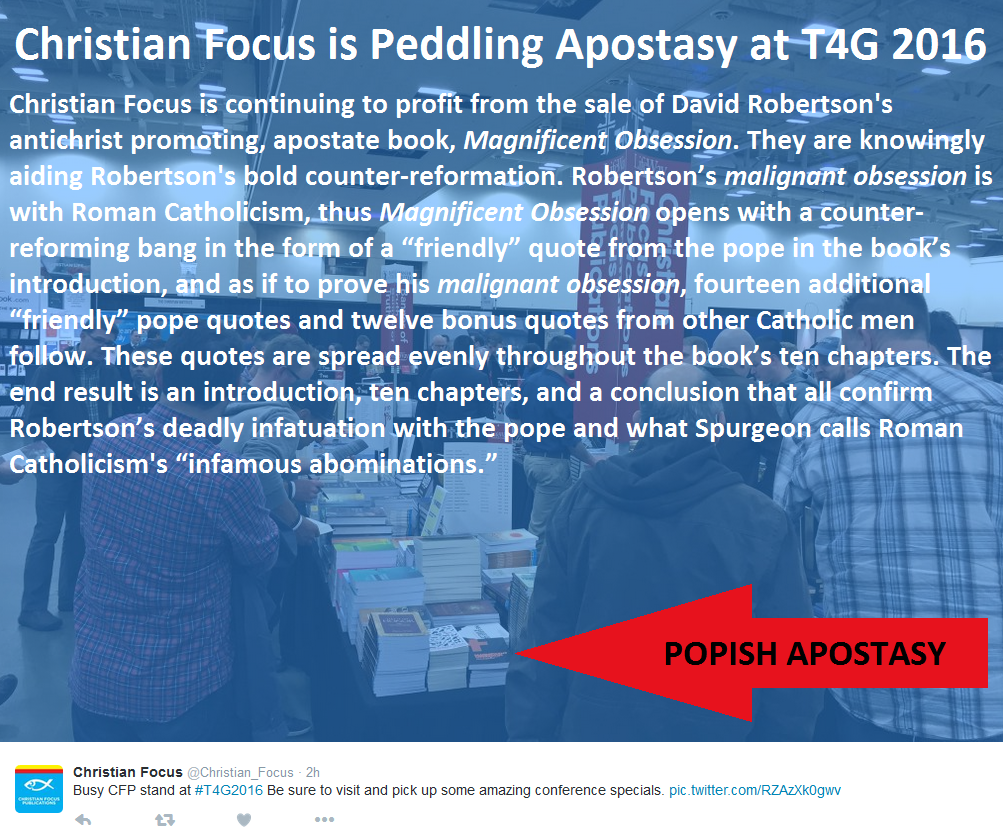 It's every Gospel declaring, defining, and defending Christian's responsibility to call Christian Focus back to the focus of Christianity, the Gospel of Jesus Christ. However, that is just the beginning of what must be done. When a deceptive counter-reformer rises from within the ranks of Reformed Christendom and spreads his counter-reformation freely across two continents through trusted ministries, we need to be duly alarmed and we need to rekindle Reformation fire through a universal call to swift and thorough Reformation action in defense of Christ's Church and His Gospel.

David Robertson, "one of the most influential Christians in the UK" and the author of Magnificent Obsession: Why Jesus is Great, has a malignant obsession with Roman Catholicism that he is successfully spreading throughout the Reformed Christian community in Europe and America using long trusted and established men and ministries. What Magnificent Obsession makes abundantly and alarmingly clear is that David Robertson's malignant obsession is with quoting the pope, Catholic apologists, Catholic writers, and apostates like Mark Driscoll and N.T. Wright as "friendly" sources, precisely because he sees them as friends and brothers in Christ . . . and yet this book and Robertson are finding open doors and pulpits throughout Christ's Church. David Robertson is a pope promoting wolf in Reformed sheep's clothing that has crept deceptively into the midst of Reformed circles on two continents to devour the sheep of the Lord's fold (Matt. 7:15 & Jude 3-4). He had the deceptive audacity to name his ministry Solas Centre For Public Christianity, stealing credibility from the historic Solas of the Reformation, and he is now using his fraudulent Reformed credibility to carry on a bold counter-reformation in which he actively promotes the pope of Rome, the church of Rome, the apologists of Rome, and the baptism of Rome from deep within Reformed circles. With his ever increasing circle of influence unchecked, Robertson is now the Free Church of Scotland's Moderator, and it is certain that his antichrist promotion and counter-reformation message will affect this denomination for years to come.

Every genuine, Christ loving, Gospel believing Christian's Gal. 1:6-10 FALSE GOSPEL ALARM should be going off! David Robertson is a brazen counter-reforming wolf that has gotten into the Lord's fold, and nobody at the helm of conservative Evangelicalism seems to care enough to take the essential Semper Reformanda Biblical action of exposing the wolf in our midst and putting him out. Robertson's apostasy with Rome and active counter-reformation isn't opinion or hearsay. It's not a disputable matter. It's fact. Hear Robertson's tragic and shameless self-proclaimed apostasy for yourself in this 6 minute video:
David Robertson's ongoing promotion of Rome and assault of the Gospel is evidenced most recently in an article he released March 31st, 2016, The State of the Church of Scotland Today, in which he states, "We have reached the surreal stage in Scottish church history where it appears as though the Roman Catholic Church is in general more faithful to the Gospel than the Church of Scotland! If he were not in Glory Knox would be birling in his grave!" In this article Robertson claims to believe the Reformation was right, he then goes on to quote Roman Catholics as friendly sources, and then he caps it off by claiming the "Roman Catholic Church is in general more faithful to the Gospel than the Church of Scotland!" Robertson seems to confess his apostasy on an annual basis. In 2013, in an article titled A New Years Wish List for the Church in Scotland in 2014, Robertson labored for counter-reformation by listing and promoting the Roman Catholic Church as a genuine, Biblical church, from which he hoped to see the hand of God move in the coming year. His consciousness of being a pro-Catholic counter-reformer shows through in these words: "There are those who would be surprised and horrified that I would include the Roman Catholics in this list." How can David Robertson write these things year after year and get away with it? Because that's how deceptive, well connected, popish wolves in sheep's clothing roll . . . and his destructive influence just keeps growing.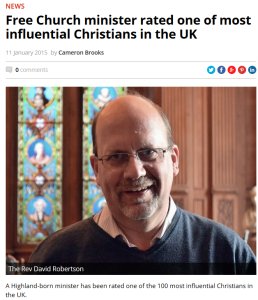 What are we to do? John Knox would run David Robertson out of St Peter's Free Church in Dundee, Scotland. In fact, he would run Robertson out of Scotland altogether. Since John Knox is long in glory, it's up to the ministries that David Robertson has infiltrated and used to further his counter-reformation . . . it is up to the Free Church of Scotland, Sinclair Ferguson, the Shepherds' Conference, John MacArthur, Ligonier Ministries, R.C. Sproul, Desiring God, Jon Bloom, John Piper, the Basics Conference, Alistair Begg, the organizers of T4G 2016, and the owners and management of Christian Focus Publications to call David Robertson to repent of his apostasy and to place him and his ongoing counter-reformation firmly out of their denominations, churches, pulpits, bookstores, publications, blogs, ministries, and conferences.

Please join me in calling these faithful Gospel men and ministries, these stalwart Reformed men and ministries, to take the necessary Biblical action to protect Christ's Church from a wolf in Reformed sheep's clothing that has used their ministries to make his way into our midst. Please join me in calling these ministries to take swift and thorough Reformation action in defense of Christ's Church and His Gospel that 1.2 billion Roman Catholics desperately need to hear and believe unto salvation. For the love of Christ, His Church, His Gospel, and Catholic souls perishing under the pope's soul damning antichrist heresies, David Robertson and his books need to be put out of the major Reformed Christian circles that they have infiltrated. Read David Robertson's Malignant Obsession and watch the video above so that you're fully informed . . . then contact these ministries and men with the contact information below, with Facebook, with Twitter, and above all with a spirit of grace and a resolute stand for Gospel and Reformation truth, calling them to swift, thorough, Biblical, Gal. 1:6-10, Church defending, Gospel defending action.

-Contact Christian Focus Publishers (who published and sells all of Robertson's books & knowingly furthers & profits from his antichrist promoting counter-reformation) to call them to Gal. 1:6-10 repentance and action at: http://www.christianfocus.com/feedback/log/-/-/n_t
or email at: donnie.morrison@christianfocus.com
or call at: +44 (0)7887 494321
-Contact the Free Church of Scotland (who currently have a self-professed "Christian brother" of the antichrist of Rome as their moderator) to call them to Gal. 1:6-10 action at: http://freechurch.org/contact/offices
-Contact Pastor Sinclair Ferguson (who shares a pulpit and pastorate with David Robertson at St. Peter's Free Church in Dundee, Scotland) to call him to Gal. 1:6-10 action at: http://stpeters-dundee.org.uk/contact/
or email at: office@stpeters-dundee.org.uk
-Contact the Shepherds' Conference (who gave out 3,500 copies of Magnificent Obsession to pastors, elders, & men of God from around the world) to call them to Gal. 1:6-10 action at: Grace Community Church, 13248 Roscoe Blvd, Sun Valley, CA 91352
or email at: letters@gty.org
or call at: (818) 909-5500
-Contact Ligonier Ministries (who sells Robertson's books & publishes his articles in Tabletalk) to call them to Gal. 1:6-10 action at: http://www.ligonier.org/contact/form/
or call at: 1-800-435-4343
-Contact John Piper and the President of Desiring God, Jon Bloom (who endorsed Robertson's antichrist promoting book with these words: "I love this book!") to call them to Gal. 1:6-10 action on Twitter at: @desiringGod & @Bloom_Jon
-Contact Alistair Begg (who endorsed Robertson's antichrist promoting book, features Robertson's book & articles on Truth for Life's website, & had him preach at his last Basics Conference) to call him to Gal. 1:6-10 action at: https://www.truthforlife.org/about/contact-us/support-form/
or call at: 1-888-588-7884
-Contact David Robertson (who is carrying out a bold antichrist promoting counter-reformation in Reformed circles) and call him to repentance at: http://stpeters-dundee.org.uk/contact/
or email at: office@stpeters-dundee.org.uk
or call at: +44 (0)1382 807004