Pastor Voddie Baucham has written on the plight and implications of Ferguson here. Pastor Dan Phillips wrote a complementary piece that can be found here. Their articles bring a wealth of Biblical insight to the situation in Ferguson and the broader implications of the riots we have all watched taking place in major cities across America. I'll try not to duplicate their excellent points. I really just have one main point; THE MINISTRY OF THE LAW AND GOSPEL IS THE ANSWER to the Ferguson tragedy which is a microcosm of the greater tragedy of sin and death perpetuated in countless lives and cultures since the fall of Adam.
The facts are in, and they are clear. We can't second guess Officer Darren Wilson, who was protecting the law abiding citizens of his community from a criminal who robbed a store and then violently attacked the arresting officer, attempting to take his service weapon. We can't second guess the grand jury that carefully looked at all the evidence on hand and came to the very reasonable conclusion that the officer did his job. Instead, we need to be very thankful for police officers who enforce the laws of our land; who preserve the peace and prosperity of our communities; and who, at the peril of their own lives, stand up against violent criminals that would otherwise prey upon our families.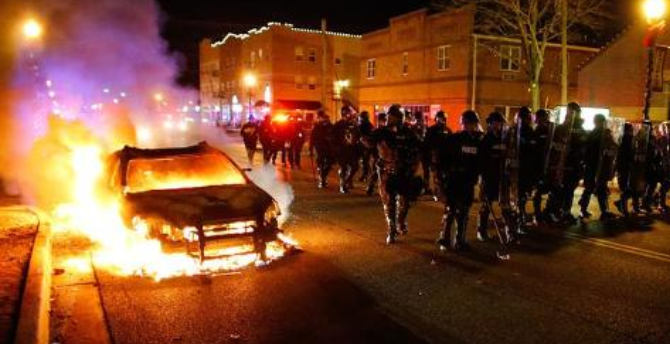 As horrific as it would be, if one of my own sons robbed a store, threatened physical violence, and then attacked the police officer that attempted to arrest him, I would not be shocked to learn he was shot and killed. Why not? I often tell my own children, and the children of the church I pastor, "Sin will take you farther than you want to go, keep you longer than you want to stay, and cost you more than you want to pay!" The statement isn't original to me, but I have made it my own because it is profoundly and painfully true. A Biblical world view and basic reason both argue that I should only be shocked if my son wasn't shot and killed in such circumstances. God's inerrant Word must not only inform our reasoning in such matters, but actually conform our reasoning to the mind of God. Carefully read the Word of God below. Ponder it. Pray over it. Reason by it. Act upon it. Speak according to it. Michael Brown's path of destruction jumps off the page.
Proverbs 1:7-18 "The fear of the Lord is the beginning of knowledge, but fools despise wisdom and instruction. 8 My son, hear the instruction of your father, and do not forsake the law of your mother; 9 For they will be a graceful ornament on your head, and chains about your neck. 10 My son, if sinners entice you, do not consent. 11 If they say, "Come with us, let us lie in wait to shed blood; let us lurk secretly for the innocent without cause; 12 let us swallow them alive like Sheol, and whole, like those who go down to the Pit; 13 we shall find all kinds of precious possessions, we shall fill our houses with spoil; 14 cast in your lot among us, let us all have one purse" —15 My son, do not walk in the way with them, keep your foot from their path; 16 for their feet run to evil, and they make haste to shed blood. 17 Surely, in vain the net is spread in the sight of any bird; 18 but they lie in wait for their own blood, they lurk secretly for their own lives."

Romans 6:23 "The wages of sin is death…"

Romans 13:1-4 "Let every soul be subject to the governing authorities. For there is no authority except from God, and the authorities that exist are appointed by God. 2 Therefore whoever resists the authority resists the ordinance of God, and those who resist will bring judgment on themselves. 3 For rulers are not a terror to good works, but to evil. Do you want to be unafraid of the authority? Do what is good, and you will have praise from the same. 4 For he is God's minister to you for good. But if you do evil, be afraid; for he does not bear the sword in vain; for he is God's minister, an avenger to execute wrath on him who practices evil."
Our youth and our society as a whole need a revival of the fear of God, a fear of breaking God's laws, and a fear of he who "does not bear the sword in vain; for he is God's minister, an avenger to execute wrath on him who practices evil." What Ferguson has vividly shown us is that many Americans have no fear of God, and that having no fear of God leads to death. It isn't a racial issue, it's a sin issue, and "the wages of sin is death." Death comes upon individuals and societies that have no fear of God, violate God's Law, and violently assault the authorities God has appointed to protect the innocent and bring justice to the criminal. Sometimes death comes over time. Sometimes death comes immediately. When it comes, it is just.
What will bring about a soul saving, life saving, culture changing revival of the fear of God? America needs Biblical, bold, loving men of God to preach the Law of God and the Gospel of Jesus Christ from the pulpit and in the open air. We don't need more pep-talk delivering life coaches in the pulpit. We don't need more "culturally sensitive" emergent cowards in the pulpit. We need preachers who will thunder out the omnipotent Word of God without compromise in the pulpit and on the street (see The Herald Society) . The profound blessing that can come out of the Ferguson tragedy is that we come to a certain recognition of America's sinful rebellion against God and His Law; recognize that sin brings the just judgment of "death" physically and spiritually under the wrath of God; recognize that our lives, communities, and nation can and will be ripped apart by unchecked sin; and commit ourselves to actively combating sin and death by boldly proclaiming God's Law and life giving Gospel in our communities for the glory of God, the salvation of souls, and the mutual blessing of all.
The hope of the world, the hope of America, the hope of Ferguson, and the hope of every sinner is to learn the beginning of wisdom, the fear of God; to repent of sin and rebellion; to confess Jesus Christ as Lord; and to learn to walk in the light of the Word of God, loving the Lord and our neighbors as ourselves. God's gracious and powerful solution to the sin and death that is ever more prevalent in the evening news (57 million babies murdered through abortion, homosexual marriage, sex trafficking, Islamic beheadings, ISIS, Ferguson) is summed up in the following verses.
Mark 1:15 "…the kingdom of God is at hand. Repent, and believe in the gospel."

Romans 10:9-17 "…if you confess with your mouth the Lord Jesus and believe in your heart that God has raised Him from the dead, you will be saved. 10 For with the heart one believes unto righteousness, and with the mouth confession is made unto salvation. 11 For the Scripture says, "Whoever believes on Him will not be put to shame." 12 For there is no distinction between Jew and Greek, for the same Lord over all is rich to all who call upon Him. 13For "whoever calls on the name of the Lord shall be saved." (ALL MANKIND -red, black, yellow, white, or brown) 14 How then shall they call on Him in whom they have not believed?And how shall they believe in Him of whom they have not heard? And how shall they hear without a preacher? 15 And how shall they preach unless they are sent? As it is written: "How beautiful are the feet of those who preach the gospel of peace, Who bring glad tidings of good things!" 16 But they have not all obeyed the gospel. For Isaiah says, "Lord, who has believed our report?" 17So then faith comes by hearing, and hearing by the word of God."

Matt 28:19-20 "'Go therefore and make disciples of all the nations, baptizing them in the name of the Father and of the Son and of the Holy Spirit,  20 teaching them to observe all things that I have commanded you; and lo, I am with you always, even to the end of the age.' Amen."

Luke 24:47 "…repentance and remission of sins should be preached in His name to all nations!"
Join me in praying that the Lord will shake the American evangelical church out of a disposition of apathetic Law and Gospel silence. Join me in praying that the Lord will revive the American evangelical church to a bold and loving ministry of Law and Gospel proclamation in the pulpit and on the street. Join me in praying that pastors and churches like Pastor Geoff Kirkland and his evangelistic flock are safe and successful in their faith-filled, courageous declaration of the Law of God and the Gospel of Jesus Christ on the streets of St. Louis. Join me in praying for the Ferguson Police Department, Officer Darren Wilson, and all those who serve and protect our families, our businesses, our schools, and our places of worship from sea to shining sea. Join me in praying Michael Brown's extended family and friends will look to God's Word, learn the fear of God, come to repentance and a saving confession of Jesus Christ as Lord, and experience everlasting peace through the Prince of Peace.
*If you and your church would like training in Biblical evangelism contact Tony Miano at Cross Encounters Ministries, attend a Herald Society, or attend the Biblical Church Evangelism Conference this coming August!